I've been thinking about how nice it would be to be able to do my own
anodizing
, but could never justify the expense of setting it up, not to mention the space. However, I've recently taken on a job that would make it worthwhile to be able to do my own
anodizing
and figured out a way to keep the set-up compact. I decided to incorporate everything into an enclosed "bench" on wheels with a hinged top to cover it all up when not in use.
The equipment is fairly simple and consists of number of tanks to hold a cleaning solution, a caustic etch, a sufuric acid solution, a tank for each dye color and a sealer. In addition, there is a DC power supply, an air bubbler to agitate the tanks and several immersion heaters. The bench will also contain a fan to force any fumes from the acid solution outside through a ventilation hose.
I got busy today and designed the bench and hope to pick up the lumber during the week and get it built. It'll be bench height (34") and will be on casters to enable it to be moved around, including outside in the summer.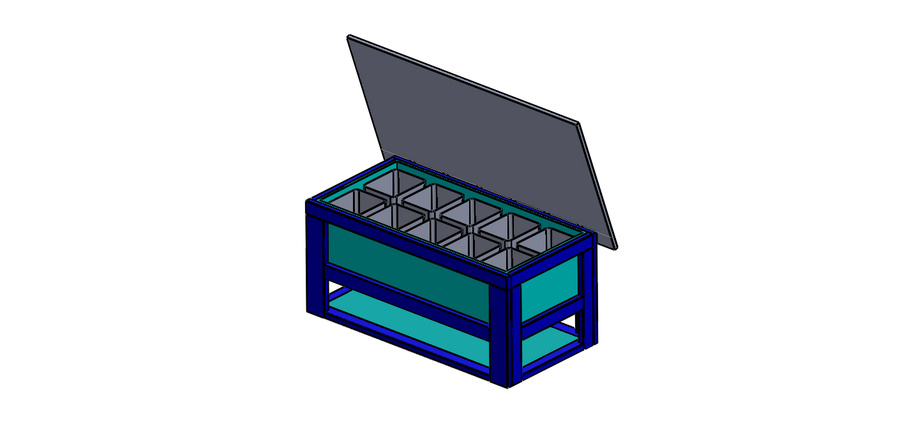 I ordered a bunch of 5.3 gallon rectangular polyethylene buckets to be used for the tanks. They have airtight lids to reduce evaporation between uses and measure 10 x 12 x 15, so they'll accommodate a fairly large part.
The cleaner, sealer, dyes and possibly the heaters will come from a guy by the name of
Ron Newman
who sells
anodizing
supplies and equipment online. The sulfuric acid is available as battery acid from the local NAPA dealer and the etch is just a lye solution. Initially, I'll be using a battery charger for the DC supply, but eventually I'll add a dedicated supply that will reside in the bench. Some of the tanks require agitation, so a pond aeration pump will be used to make a bubbler. The cleaner and dye tanks run at 140ºF, and the sealer at around 170ºF. These will be heated using immersion heaters in the buckets. The polyethylene buckets are marginal for the higher temp, so I'll probably weld up a stainless tank for the sealer.
I've never tried
anodizing
, but have been researching the process for quite a while so it'll definitely be an adventure.
Tom