Cross slide half nuts for 7x12
Locktite?
Free advice is worth exactly what you payed for it.
Greg
I'll pull the nuts off this weekend and see what the thread is. I don't think Loctite would be effective because it's fairy oily around there.

If when I have the parts in hand it looks feasible to drill & tap, I'll do that and make a little brass shoe for under the set screw/grub screw. I'd really only have to do one of them, methinks.
Perhaps take the washer out and tighten the two nuts against each other.
Hunting American dentists since 2015.
In looking at the photos it seems there should be a tab on the washer that would mate with the keyway in the screw. When I take it apart tomorrow I'll see if that's true and if it is I will take it out, put it behind BOTH of the nuts, lock it into the keyway, jam the two nuts together and mash one of the outer tabs into the wrench cuts on one of the nuts.

If there is no tab for the keyway, I'll remove it and go with set screws.
Well, no question about the problem! It needs a new tabbed bearing washer.
I took it apart and found the tab that should go into the keyway on the shaft has been broken off, and according the parts manual (and common sense) that washer should be against the thrust bearing behind the nut and no need for a second nut. When I had replaced the cross slide screw and nut assembly shortly after receiving the machine, I did a foolish thing and just put it back the way I found it. Duh. I won't do that again!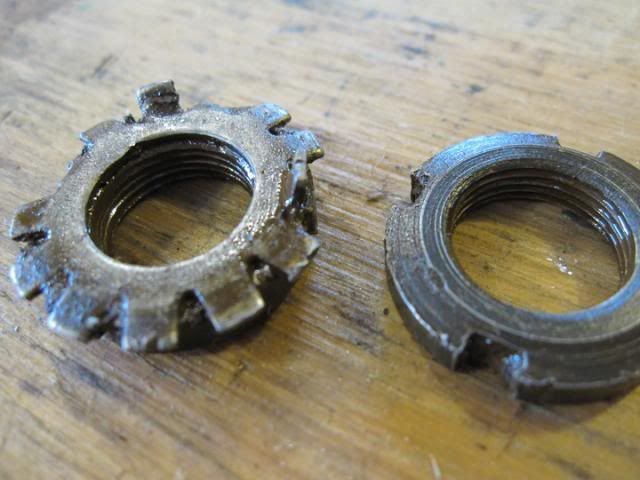 I also took the time to really go over the machine and lubricate the ways and everything else. Moving the carriage had become difficult because the central way lube system isn't working the way it should. I will have to tear into the carriage to see what it needs. Normally, cranking the carriage back and forth actuates a cam-driven oiler pump, and the way lube is drawn from the sump of the apron part of the carriage where the way lube reservoir acts as lubricant for all the bearing inside the carriage.
A project for another time. A liberal manual application of way lube directly to the ways and the cross slide screw will have to suffice for now.
Glad to see. You have it all figured out Ken.
Hunting American dentists since 2015.
Users browsing this thread: 1 Guest(s)