My first firearm build was a 1911 Officer's Model. It's basically the same design as a full size 1911 except the slide is 1 1/4" shorter and the grip is 1/2" shorter making it much more compact.
I started with a frame and slide form Caspian Arms with unfinished rails and fitted the two together. I also fitted a beavertail grip safety, an ambidextrous slide safety, a light weight aluminum trigger and several light weight titanium parts in the action (recommended for the Officer's model due to the high cycle rate) and an arched mainspring housing.
I cut grip serrations in the slide angled to match the grips and added a french cut. I also made the dovetail cuts for the front and rear sights, which I designed and made. The rear sight is patterned after the Novak combat sight, but the front sight is entirely unique with the dovetail cut axially rather than crosswise. This allows it to be completely hidden under the front sight when installed.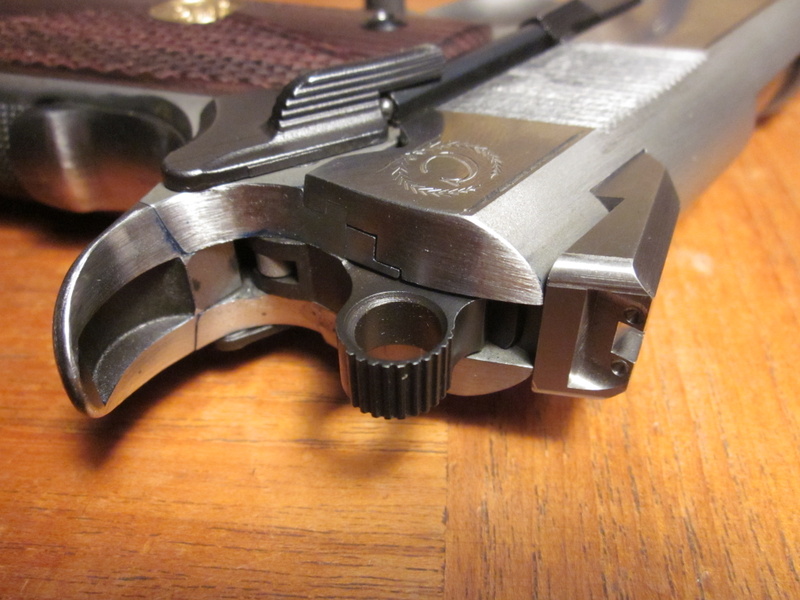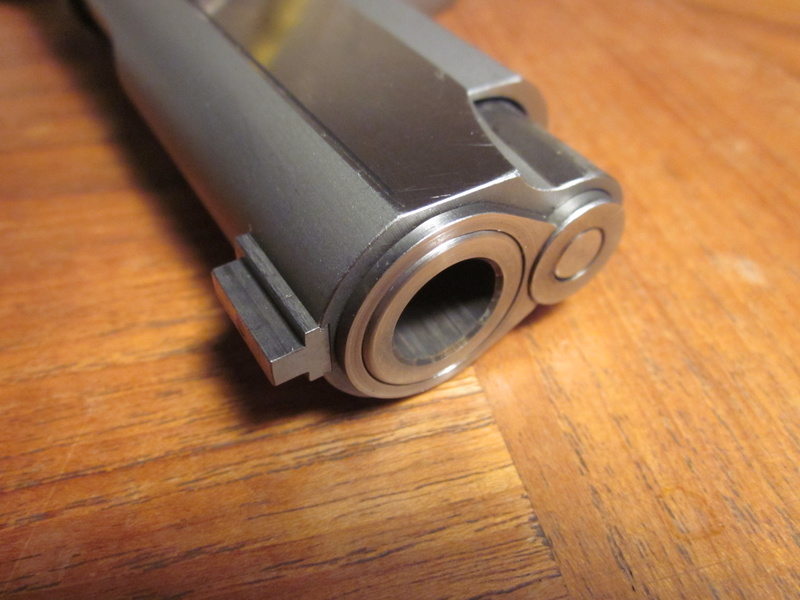 The frame is pretty much stock except for the hand cut checkering in the front strap. I had checkered wood before (the grips), but never metal and it was quite a challenge. I made up a guide for the checkering file, and got busy using tips that I found across the internet. Once the checkering was roughed out I switched to a triangular file and finished it the rest of the way. All told, it took around 24 hours to finish, definitely not something I would want to do for a living. It tuned out pretty well though and definitely makes the pistol easier to control with its short grip.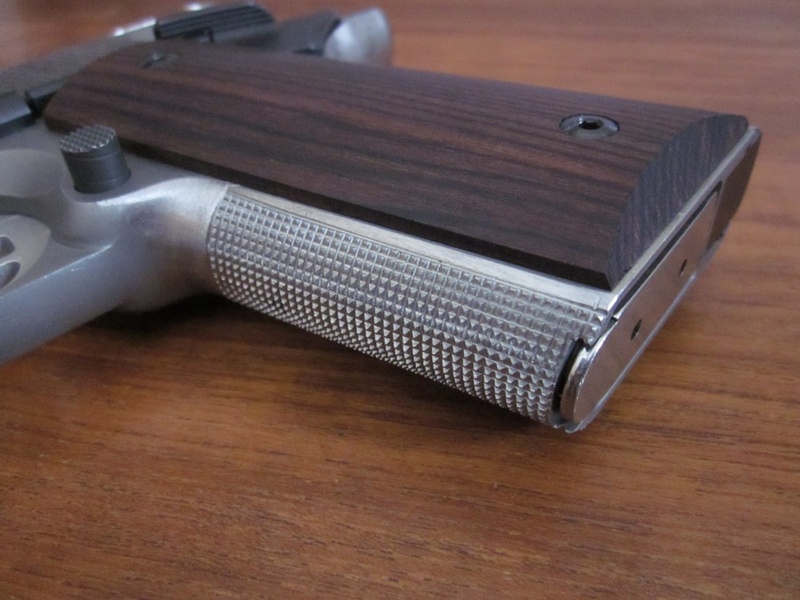 The action is pretty much as Colt designed it except for the recoil spring system. The original Officers Model design uses a silly dual recoil spring with tiny tabs on the barrel bushing to index it. Unfortunately these tabs have a nasty habit of breaking off and disabling the gun. I am building this pistol to carry, so I went with a different system that uses a reverse bushing and a single flat wound recoil spring like those used in the Glock. This type of spring has more travel than a round wire spring and doesn't mind being completely compressed, perfect for the Officer's Model and it's short stroke.
The grips are also quite unique. They are made out of Kingwood, which is a very dense and oily exotic hardwood with an amazing grain pattern. It has so much oil in it that it requires no finish, you just sand it out and buff it. This was the first time I tried hand checkering, so that was quite an experience. Once I got the hang of it though it was fun. The most unique part of the grips are the medallions inlet into them They are brass and have a three dimensional Griffin carved into them with a pantograph that I built just for this project.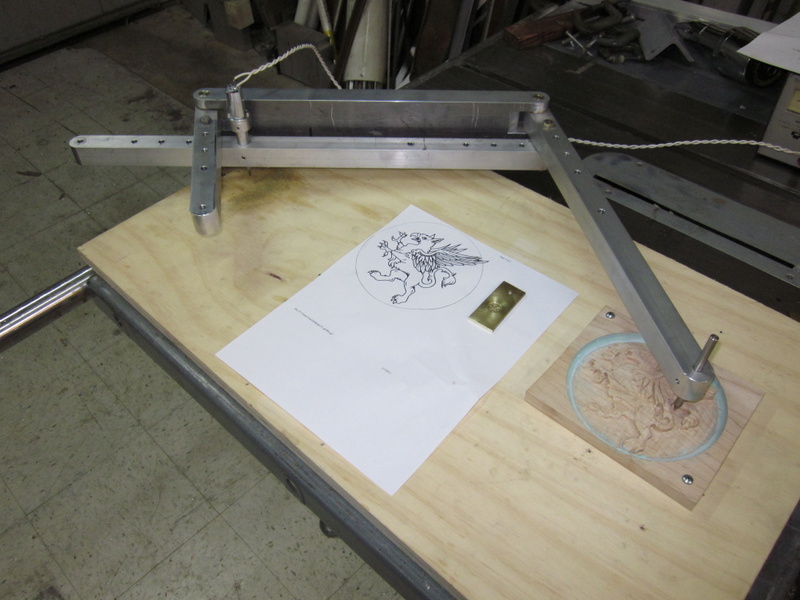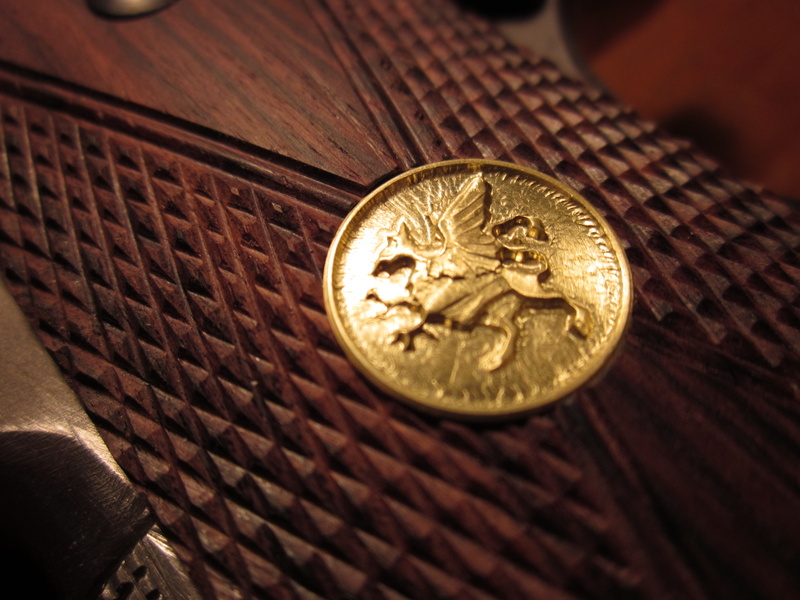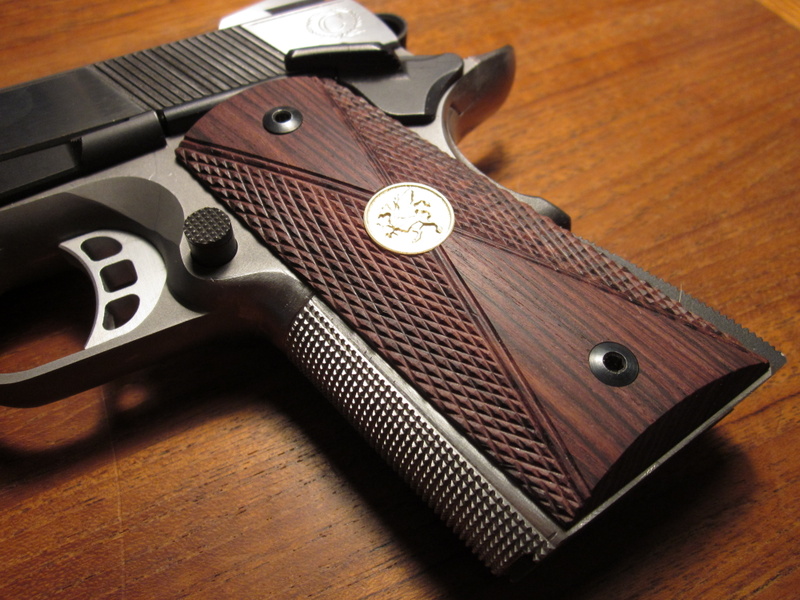 I left the finish bare until I finish test firing it. I want to get several thousand rounds through it without any malfunctions before I'll trust it enough to carry. Right now I have just over 800 rounds through it with no jams. The only issue I've found is an occasional failure to return to battery which I tracked down to a weak ejector that bends and drags on the slide.
When it's finished, it'll be a combination of hot blue and nickel plating. The frame and slide will be matte except for the sides of the slide which will be nickel, IF I can figure out how to do it.
Anyway, this little pistol was quite an adventure to build, is blast to shoot and no one else has one like it.
Tom